Before We Light
Based on the position which I am hired; be it Gaffer or Lighting Director, from pre-production to last wrap day, I continually strive to bring the best to your project.
I maintain and work within the budget provided, find and negotiate with vendors to obtain a reasonable rate for gear, hire the most efficient Grip, Rigging & Electric team as well as schedule their man days in accordance to productions needs. 
I also have extensive experience and knowledge in: high speed lighting, car rigging, green screen, stage design and builds.
My passport and I are willing to travel anywhere in the world. 
Lighting Plots
The type of lighting plot created is dependent on the project and the time permitting.   One of three plots is generated; the simple lighting plot, 3D Rendering or Pre-Viz for production. 
As a Gaffer, I have found that some Cinematographers like to create their own plots while others like to work in conjunction me or simply have me do a plot based on our conversations and tech scouts.
As a Lighting Director, I work with Production and the Production Designer as they create the set, finding the best way to integrate lighting as well as shaping plots based on their layouts.
Simple Light Plots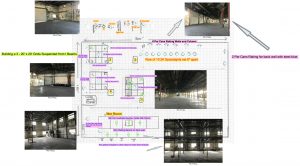 These plots are either drawn by hand or by using "Shot Designer" and are provided to the DP and Production for changes, final looks and approval.
3D Pre-Viz Rendering
3D Pre-Viz Animated Renderings are normally provided for larger stage productions to assist production in seeing how lighting units will co-exist with the set design.