About The Gear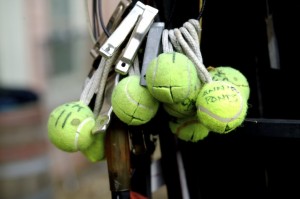 All of my gear that shows up to set is well maintained and in good working order.  I feel each production is its own independent beast and all have very different needs, not limited to story, budget or locations. Therefore, to simply provide a quote without knowing the finer details of the project, would be like asking a contractor to build a house without a blueprint.
With the amount of gear I own, I am able to provide 1, 2, 3 and 5 ton grip packages.  I also own dimmer boards, racks and an extensive amount of rigging equipment and speed-rail. On the lighting front, I own an ample amount of Kino-Flo's, HMI's and Tungsten units.
I only work with my own highly trained and professional Grip and Electric crew and have found by doing so it significantly reduces "L & D" at the end run of a show.
For a quote and/or availability, feel free to send over an email and depending on my schedule, I will get back to you within 24 hours. 
* We do not work for: "DEFERRED" or "COPY, CREDIT, MEAL" terms of payment.
The Small Print
BELOW IS A LIST OF GRIP, LIGHTING, RIGGING AND ELECTRIC ITEMS AVAILABLE IN MY PERSONAL INVENTORY.
All items listed, DO NOT AUTOMATICALLY come PRE-PACKAGED as all packages are built according to productions requirements and are accommodated in 1, 2, 3 and 5 ton Packages.
"A la carte" RATES ARE not PROVIDED.
The cost of each LIGHTING and GRIP package varies based on terms and length of rental. Sub-rentals are additional.
PAYMENT TERMS: FULL AMOUNT DUE UPON RECEIPT OR PRIOR TO BEGINNING OF DAY 1 SHOOT DAY. Production is responsible for TRUCK RENTAL AND FUEL. Production is responsible for all  L & D. Inventory list subject to change without notice. Expendables priced separately.
* We do not work for: "DEFERRED" or "COPY, CREDIT, MEAL" terms of payment.
DIMMERS, RACKS & ACCESSORIES
DIMMER BOARD




1 – LP 1648 48/96 Chan. Console




1 – SmartFade ML – 24/48 Channel

MONITOR
1 – 17″ CRT Monitor

RACKS
1 – 2.4K 48-Rack ETC Sensor
1 – 2.4K 24-Rack ETC Sensor

SOCA CABLE
12 – 50′ Soca
8 – 24′ Soca
12 – Breakout (M) to 6-20A (F) Edison

DMX CABLE




4 – 25′ 5 Pin XLR Cable




4 – 50′ 5 Pin XLR Cable




1 – 100′ 5 Pin XLR Cable




1 – 5 pin DMX Terminator  

DIMMERS
8 – 1K Hand Dimmers
2 – 2K Variac
4 – 1K Variac 
TUNGSTEN UNITS
DESISTI FRESNEL
4 – 5K Leonardo

MOLE: FRESNEL
6 – 2K Baby
4 – 1K Baby-Baby
4 – 650W Tweenie
3 – 300W Betweenie
4 – 150W In-Betweenie
3 – 200W Mini Mole
5 – 200W Midgets

MOLE: OPEN FACE
3 – 650W Tweeni-Weenie
2 – 1K Mickey Mole

MOLE: BROAD & NOOK LIGHTS
2 – 1K Broad
3 – 1K Nook
1 – 650W Nook

MOLE: SOFT LIGHT
1 – 2k Baby 'Zip' Softlite

MOLE: FAYS & PAR LIGHTS




5 – Molefays




4 – Mole Pars




34 – Rock-n-Roll Par 64




4 – 6 Light Maxi




2 – 2K Molelipso

SOURCE 4
5 – 26 Degree
7 – 36 Degree
6 – 50 Degree

OPEN FACE LIGHTS
1 – 1K Strand
1 – 2K Arri

SPACE LIGHTS
14 – 2K 2 – Light Spacelite
14 – Silk Skirt
14 – SIlk Target
HMI FRESNELS
1 – 200w w/ mag ballast
1 – 575W w/ 1 mag  ballasg
2 – 2.5k w/ 1 mag, 1 elec ballast
1 – 4k w/ 1 mag

HMI PAR
2 – 200W w/ mag ballast

MOLE: FLUORESCENT
2 – Tube Molescent

KINO-FLO


2 – 400 Parabeam




2 – 4′ 4 Bank w/ ballast




2 – 4′ 2 Bank w/ ballast




1 – 2′ 4 Bank w/ ballast




1 – 2′ 2 Bank w/ ballast




1 – 4′ Single w/ ballast




1 – 15′ Single Bank




3 – Mini Flo w/ballast




1 – Auto kit adaptor




1 – 4 Bank to 4 Single Squid Set
STANDS 
HIGH ROLLER
2 – Hi-Hi Roller
2 – Hi-Rollers

JR./COMBO
1 – Combo Triple Risers
6 – Junior Double Riser

LIGHT STANDS
2 – Single Triple Riser
6 – Single Baby Double Riser
2 – Low Boy Combo

LIGHT STANDS con't


2 – Premie




3 – Double Riser Aluminum




1 – Double Riser Black Aluminum

C-STANDS
21 – 40″ C-Stands
2 – 20″ C-Stands
3 – Turtles

MOMBO COMBO
2 – 4 Riser Mombo
 GRIP
CARTS
1 – Pup – Taco Cart
1 – 4 X 4 Cart
1 – Muscle Cart
1 – Cable Cart
1 – C-Stand Cart
1 – Tungsten Head Cart

MOUNTING EQUIPMENT
2 – Hostess Tray (American)
1 – Hood Mount (American)
2 – Condor Mounts
4 – Bull Spikes

LADDERS
1 – 10 Step – Single Side
1 – 8 Step  – Single Side
1 – 6 Step – Single Side
1 – 4 Step – Single Side

POLECAT




1 – 7′ to 12′ Polecat

REFLECTORS
2 – 42″ X 42″ Silver Reflector

APPLE BOXES & LUMBER
10 – Full Apple Boxes
10 – Half Apple Boxes
10 – Quarter Apple Boxes
10 – Pancakes
1 – Crate 72 Wedges
1 – Crate 48 Cribbing
1 – Crate 24 1′ X 1′ Pads

DOLLY
1 – Doorway Dolly w/ Sideboards
RAGS N FLAGS
OVERHEAD CLOTHS
1 – 6′ X 6″ Single
1 – 6′ X 6″Double
1 – 6′ X 6″ Silk
4 – 6′ X 6″Solid
1 – 6′ X 6″ B/W Griff
1 – 6′ X 6″ Gold/Silver Checker
1 – 8′ X 8′ Single-
1 – 8′ X 8′ Double
1 – 8′ X 8′ Silk
3 – 8′ X 8′ Solid
2 – 8′ X 8′ B/W Griff
1 – 8′ x 8′ 1/4 Grid
1 – 8′ X 8′ Full Grid
1 – 20′ X 20′ Duvetyne
1 – 12′ X 12'Unbleached Muslin
2 – 12′ X 12′ Full Grid
1 – 12′ X 12′ 1/4 Full Grid
2 – 12′ X 12′ B/W Griff
1 – 12′ X 12′ Poly Silk
1 – 12′ x 12′ Ultra Bounce
1 – 12′ X 12′ Solid
3 – 12′ X 12′ Green Screen
1 – 15′ X 15′ Camo Netting
1 – 12′ X 12′ Camo Netting

FRAMES
1- 4′ x' break-down Frame
1 – 6′ X 6′ Square Frame
1 – 8′ X 8′ Frame
1 – 12X12 Square Frame
2 – 12′ X 12′ Tube Frame

FLAGS, CUTTERS & FRAMES




1 – 4′ X 4′ Breakdown Frame




12 – 4′ X 4′ Frame




2 – 4′ X 4′ Flag




4 – 4′ X 4′ Floppy




1 – 3 Sided Floppy




2 – 4′ X 4′ Silk




2 – 4′ X 4′ Single Net




2 – 4′ X 4′ Double Nets




2 – 2′ X 3′ Single




5 – 2′ X 3′ Double




2 – 2′ X 3′ Silk




4 – 2′ X 3′ Solid




2 – 2′ X 3′ Open Frames




2 – 18″ X 24″ Silk




1 – 18″ X 24″ Single




2 – 18″ X 24″ Double




3 – 18″ X 24″ Solid




1 – 18″ X 24″ Wood Cuc.




2 – 18″ X 48″ Solid




2 – 12″ X 18″ Silk




4 – 12″ X 18″ Single




4 – 12″ X 18″ Double




2 – 12″ X 18″ Solid




1 – 18″ x 24″ Canvas Carrybag




1 – 2′ x 3′ Canvas Carrybag
MORE GRIP 
MOUNTING EQUIPMENT
1 – 6″ Vacuum Cup w/ 3/8 -16 Spud
2 – 4.5″ Cup w/ 3/8 -16 Spud w/ Baby Pin
1 – Compact 486 Ball Head w/ 5/8 Pin
5 – Digital Camera Starter
6 – 3″ Baby Plates
7 – 6″ Baby Plates
9 – 20″ Ext. Arm
2 – Baby Offset Arms
2 – Jr. Offset Arms
4 – 12″ Baby Risers
4 – 1/2″ Gobo Heads
3 – Combo – plug converters
2 – 1″ Putty Knives w/ Baby
2 – 3″ Putty Knives w/ Baby
2 – Lolipops
4 – Duckbills
1 – 1/2″ Double Grip Head
2 – 1/2″ Double Grip Head w/ 3/8″ Pin
2 – 12″ Foam Core Holder w/ Swivel
1 – 100″ Menace Arm – baby pin
6 – Scissor Clips w/ baby pins
9 – Scissor Clips w/ hangers
2 – 6″ Baby Risers
3 – Right Angle 5/8″ Pin
2 – 90 Degree 5/8″ Pin
6 – Chain Vises
6 – Norms Pins
1 – Baby Triple Header
2 – Mini Foam Core Holder – Mole
1 – Beadboard Holder

MISC.




1 – Jr. Receiver Umbrella




1 – Push Broom




1 – Shovel




1 – Sledge Hammer




1 – Smoke Machine




1 – Card Table




3 – 15″ Fans




2 – Furniture Dolly




1 – Hand Dolly




4 – Road Cones




10 – Moving Blankets




10 – Ratchet Straps

SANDBAGS
10 – 30lb Sandbags
24 – 20lb Sandbags
10 – Shotbags

MISC. EQUIPMENT
2 – 1″ Pully
8 – 2″ Pully
8 – 12″ Chain
RIGGING
SPEEDRAIL & FITTINGS (1 1/4″)


2 – 2′ Speedrail




6 – 3′ Speedrail




2 – 4′ Speedrail




2 – 6′ Speedrail




1 – 8′ Speedrail




1 – 10′ Speedrail




4 – 12′ Speedrail




100 – 20′ Speedrail




12 – Black Steel Pipe 21′




2 – 3.5″ Speedrail Starter




2 – 5″ Speedrail Starter




2 – 8″ Speedrail Starter




6 – Speed "T's"




1 – Pipe Frame Ear




60 – Sleeves




1 – Menace Arm Kit




1- Horizontal Pipe Reciever w/ flat plate




1 – Pipe to Jr. male adapter




9 – Truss 90 Degree Pass Through




9 – Pipe Truss Base Adapter Bracket




42 – Pipe Truss Bracket




4 – Corner Adapters




20 – Speed Clips




1 – Slider w/ baby pin

WALL SPREADERS
2 – 2′ X 4′ Wall Spreader Kit
2 – 2′ X 4′ Braces (Set of 2)
2 – 2′ X 4′ Sliders w/ Baby Pin
2 – 1 1/4″ Pipe Wall Spreader Kit

CHEESEBORO CLAMPS
4 – Cheeseboro Clamp w/ 5/8″ Baby
2 – 90 Degree Cheeseboro Clamp
8 – Swivel Cheeseboro Clamp
2 – Grid Clamp w/ Jr. Reciever
8 – Cheeseboro -Swivel Double
100 – Cheeseboro – Rigid Double

PIPE CLAMPS


4 – Clamps for 5K




3 – Pipe Clamps w/ 5/8 Baby




3 – Jr. Combo Pipe Clamps

C-CLAMPS
2 – 8″ Double C-Clamp
1 – 6″ Double C-Clamp
3 – 4″ Double C-Clamp
1 – 12″ C-Clamp w/ baby Pin
1 – 9″ C-Clamp w/ junior
2 – 2″ LTM Single C- Clamp
2 – 4″ LTM Single C- Clamp
1 – 4″ C-Clamp w/ junior
1 – 6″ C-Clamp w/ junior
8 – Speed "C's"
1 – Tree Branch Holder

GRIP CLAMPS
12 – Mayfer Clamps
2 – 18″ Furniture Clamps
3 – Gator Clamps
2 – Big Bites
2 – Matthewlinis
8 – Cardelini
2 – Center Jaw Cardellini
3 – Magic Arm
1 – #1 Grip Clips
13 – #2 Grip Clips
10 – # 3 Grip Clips
60 – Safety Ties 
DISTRO & CABLE
D-BOX




2 – 400 amp (Cam) D-box




1 – 400 amp (Pin) D-box




1- 600 Amp D-box

PADDLES & LUNCH BOXES
1 – 60 Amp Paddle
1 – 100 amp Paddle
2 – 100 amp Lunch Box

INVERTER
1 – 30amp Power Inverter

2/3 FERS & REVERSE M/F
14 – 3fers
16 – 2fers
6 – Male To Male Suicide
2 – Female to Female Suicide

CAM-LOC
5 – 50′ 2/0 Cam to Cam

BANDED
1 – 5′ 5 Wire Banded
1 – 10′ 4 Wire Banded
3 – 50′ 4 Wire Banded
5 – 5′ 4 Wire Banded

TIE-IN KITS
4 – Twisl-Loc Gators
4 – Pin to Cam

STINGERS




20 – 10′ Stingers




60 – 25′ Stingers




60 – 50′ Stingers

BATES
  1 – 25′ 60 Amp Bates
  4 – 50′ 60 Amp Bates
  2 – 50′ 100 Amp Bates
  8 – 25′ 100 Amp Bates

SOCA CABLE
12 – 50′ Soca
  8 – 24′ Soca
12 – Breakout (M) to 6-20A (F) Edison

SPLITTERS
2 – 60 Amp to 60 Amp Splitter
2 – 100 Amp to 60 Amp Splitter
2 – 100 Amp to 100 Amp Splitter

CROSSOVERS
10 – Yellow Jacket Crossover 5-Way